Steamed Egg with Tofu and Prawns
Jul 30,2023 | Feng He Garden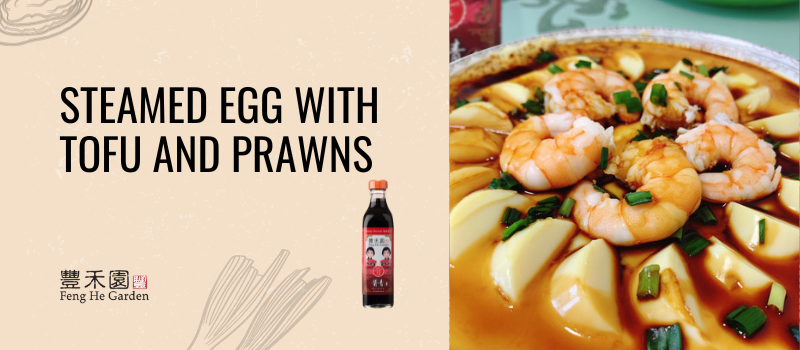 Ingredients:
3 packets of Japanese Egg Tofu

6 pcs Prawns, de-shell

2 pcs Eggs

2 tbsp

Feng He Garden Light Soy Sauce

1 stalk Spring Onions, chopped

½ tsp Salt

120ml Warm Water

2 tbsp Hot Oil
Method:
Cut the tofu into thick slices not thicker than 1cm.

Use a deep plate and arrange tofu around the plate.

Beat 2 eggs with salt, and add warm water to stir (keep stirring while adding water slowly). Stir well.

Use a sieve to filter out the foam of the egg, then pour it into the plate of tofu. Wrap the dish with cling wrap and pierce a few holes.

Prepare the steamer and put the eggs and tofu to steam for 12-15 minutes with medium heat.

Simultaneously, boil the prawn in boiling water until cooked. Set aside.
When the eggs are ready, remove the cling wrap. Put the prawn at the center of the egg.
Pour the Feng He Garden Light Soy Sauce over the eggs and prawn.
Sprinkle with chopped spring onion, and pour hot oil to stimulate the aroma.

Ready to serve.
Comment