Black Pepper Beef with Garlic
Jan 23,2023 | Feng He Garden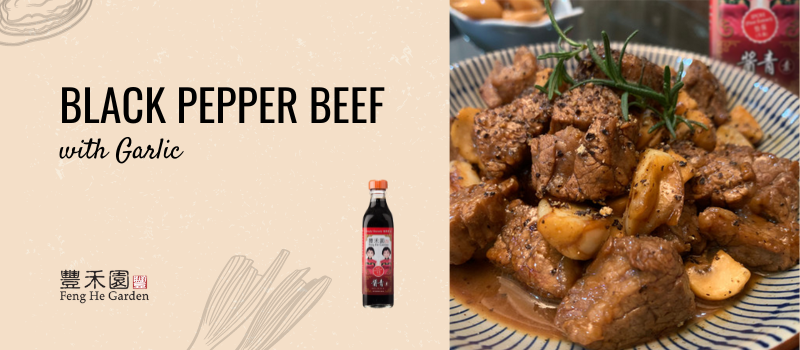 Ingredients:
300gm Beef Tenderloin
35 cloves Garlic, whole
1 pcs butter
Spring Onions, garnish
Salt to Taste
Marinating Mixture:
2 tbsp Cooking Wine
2 tbsp Feng He Garden Soy Sauce
1 tbsp Cornstarch
1 tbsp Cooking Oil
1 tsp Black Pepper
1 tsp Sugar
Methods:
Cut the beef into cubes size. Add marinating mixture and mix well. Set aside for at least 30 minutes.
Stir-fry garlic with oil and fry until golden brown. Remove and set aside.
Add marinated beef with the same oil, and stir-fry until all sides turn light brown. Remove and set aside.
Melt butter in a pot. Add garlic and beef, then stir-fry well.
Remove to plate, and garnish with spring onion. Ready to serve.
Comment