Steamed Abalone with Garlic and Vermicelli
Jan 23,2023 | Feng He Garden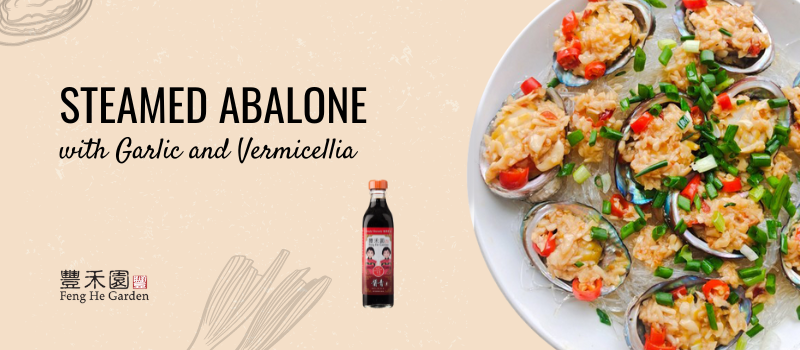 Ingredients:
13 pcs Fresh Abalones
10 cloves Garlic
2 bunch Vermicelli
1 tbsp Feng He Garden Soy Sauce
2 tbsp Fish Sauce
1/2 tsp Sugar
1 tsp Five-Spice Powder
1/4 tsp Salt
1 stalk Spring Onions, finely chopped
1 pc chili
Method:
Scoop out the abalone with a spoon.
Remove the viscera and teeth of the abalone, and clean it with a toothbrush.
Do a criss-cross cut at the abalone halfway. Set aside.
Deskin the garlic and blend it with a blender. Remove to a bowl.
Add salt, sugar, and five-spice powder to the minced garlic.
Heat oil and pour it over the minced garlic.
Spread the washed vermicelli on a plate.
Put the abalone back into the shell, and place it on top of the vermicelli.
Pour the garlic sauce over the abalone & vermicelli.
Steam for about 8-10 minutes.
Sprinkle with spring onions chili, and pour hot oil over it. Ready to serve.
Comment